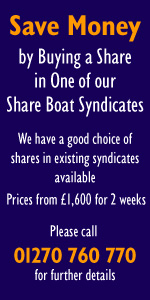 58' Semi-Trad. Narrowboat
As you would expect, Carefree Cruising's market leading luxurious shared ownership narrow boats are stylish, very well built and have a very high equipment specification.
Available in both "rear bedroom" and NEW FOR 2011 "front bedroom" layouts, these boats are built as welcoming, comfortable floating holiday homes.
A powerful engine and bow thruster will assist you with any tricky boat manouvers;
With plentiful 230v power, a washing machine / tumble drier, a dishwasher, a built in flat screen TV, a DVD player and a satellite receiving system are provided for real "home from home" luxury and comfort;
Those who enjoy cooking will love the spacious Galley, with the full domestic sized gas oven and grill, separate four burner gas hob, 230v microwave and the stylish modern granite worktop;
The saloon has comfortable built in seating that converts to comfortable beds with a wood burning stove for atmospheric warmth; and
Each boat is designed to accommodate up to six people in a 2 + 4 format.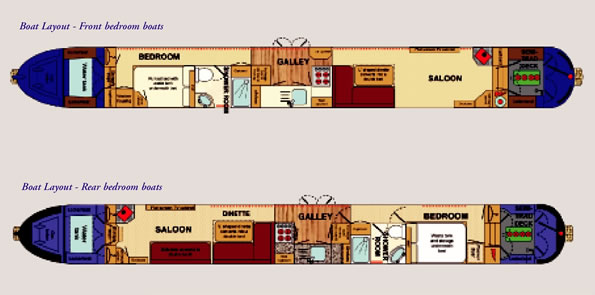 Overall Summary
Boat Builder : Elton Moss Boatbuilders (Part of the Carefree Cruising Family)
A 58' 'go anywhere' semi traditional style narrowboat, with sleeping accomodation for six arranged in a 2 plus 4 layout.
Luxury fitted bedroom with fixed permanent full size double bed (4'6" by 6'6") WITHOUT the need to use flaps or extension pieces and a built in Washing Machine / Tumble Dryer
Luxury bathroom with full-sized shower cubicle (with door), thermostatic shower and pump-out toilet
U-shaped Galley with full domestic sized oven and grill, 230v microwave, built-in Dishwasher, and granite worksurface
L-shaped Dinnette, convertible to a double bed
Salon with Sofa (convertible to a double bed OR two single beds), two lockers / wardrobes, a solid fuel stove and a built in flat screen TV, DVD player and satellite system
Both FRONT BEDROOM (rear galley & saloon) and REAR BEDROOM (front galley and saloon) versions of these boats are available.
Saloon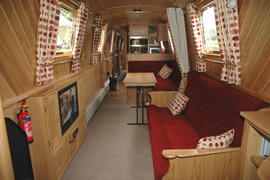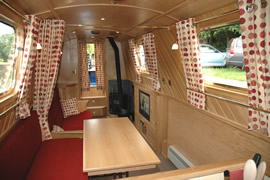 Storage steps to deck
Two lockers / wardrobes
Built in cupboard with bookshelves
High level display cabinet with glazed door
Built in flat screen TV in unit with DVD player and satellite system
Solid fuel stove
Skirting-board radiator
1kg powder fire extinguisher
Built-in Radio / CD player
Built in Sofa (converts to a double bed OR two single beds). Seating is reclined 17 degrees from vertical and 5 degrees from horizontal for a very comfortable seating position

Dinette

L-shaped seating arrangement, with table. Converts to double bed.
Storage under seating.
Seating is reclined 17 degrees from vertical and 5 degrees from horizontal for a more comfortable seating position.
Skirting-board radiator.
Glazed opening side window under side hatch doors (portholed boats only).
U-Shaped Galley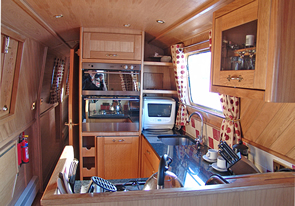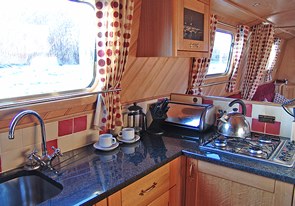 Hand built galley units with Solid Oak doors
Granite worktops
Stainless Steel sink bowl and drainer
2 x 1200mm (4') kitchen units (one with drawer)
Built-in full domestic sized gas oven and grill
Built-in gas hob with 4 burners
Decorative tiling or splashback
Full domestic sized washing machine / tumble dryer, built-in with a decorative door (located in bedroom)
12v Fridge and Freezer with decorative door
Dishwasher with decorative door
High-level display cupboard with glass doors
Eye level oven housing with pan cupboard above, display shelves and built in wine rack
2 brass 240v double sockets
Built-in bin cupboard (in main corridor)
Built-in storage cupboard (in main corridor)
Skirting-board radiator
1 kg powder fire extinguisher
Fire extinguishing blanket
Microwave
Bathroom (Accessed from Main Corridor)

Water-flushed pump-out toilet (with holding tank guage)
Super-size luxury shower cubicle with glass door
Luxury Thermostatic temprature controlled shower unit
Vanity Unit with inset wash basin
Wall mirror
Shaver socket / light
Towel rail radiator
Extractor fan

Bedroom

Click on picture to enlarge

Fixed 4'6" x 6'3" double bed, with luxury mattress
Above bed shelf unit, with built-in reading lights
Two Wardrobes
Corner wall cupboard
Under-bed storage
Easy-access storage steps leading to deck
Skirting-board radiator
1 kg powder fire extinguisher

Internal Linings, Insulation, Fittings and Lighting

Click on picture to enlarge


Spray foam insulation
Internal linings: 'A' grade crown cut, Oak veneered ply in Oak and solid Oak tongue & groove Plank
Solid Oak trims, edgings and decorative mouldings
Finest quality brass portholes with drop back vents and internal brass liners (portholed boats only)
Finest quality brass mushroom vents with trims
1 x Pair opening side doors
Low-energy halogen lighting with brass effect surround
Mechanical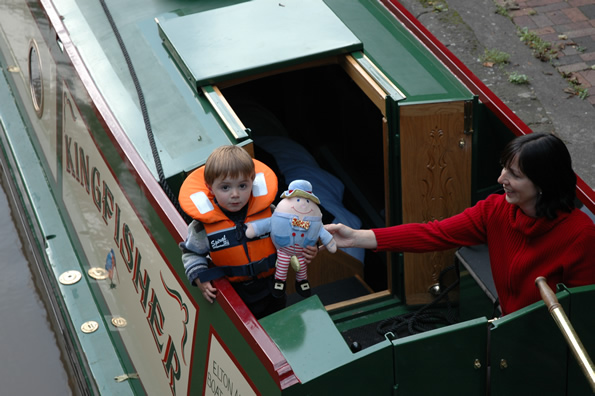 Beta Greenline 43 hp diesel engine
PRM 150 hydraulic gearbox
Vetus bow thruster
3.0Kw 240v inverter with combined 50 Amp battery charger
Diesel central heating system, with timer clock
"Hospital" engine exhaust silencer
Luxury control panels
Land-line 240v electrical "hook-up"
Automatic bilge pump

External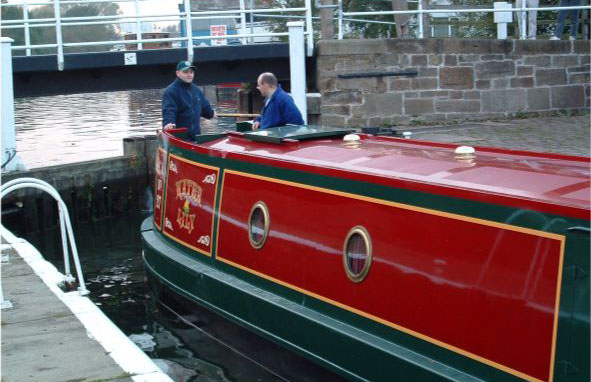 Brass navigation lights
Tunnel light on cabin top
Anti-slip coating on both front and rear decks
Anti-slip coating on gunnels and cabin roof

Shell Steelwork & Specifications
3A grade steel, 10mm base, 6mm hull Sides, 5mm cabin sides and 4mm cabin top
Floor bearers 100mm x 100mm x 6mm
Knees 50mm x 50mm x 6mm
Full length hull Stringers 40mm x 40mm x 5mm
Roof frames 50mm x 25mm channel
Rubbing strips, 50mm welded top & bottom
Long "swim" front and back for better handling and manoeverability
Semi-trad stern with locker, seat and additional rear doors
Flare bows fully welded top & bottom
Scrolled cants
Scrolled integral handrail
Overhang to cabin front, including scroll
Vented gas locker with traditional hinge effect
Restraining hooks and chains for gas bottles
1 x Pair galley side doors
Steel front & rear doors (Hardwood Lined)
Self draining front & rear decks
Quick release weedhatch
Fender eyes, front, rear and side
130 Gallon (approx.) stainless steel water tank
Please note that this specification is correct at time of writing. The specification may be altered at any time without notice. This specification does not constitute any contract or part of any contract and is for guidance only.
The exact specification of your boat will be confirmed in writing at time of purchase.